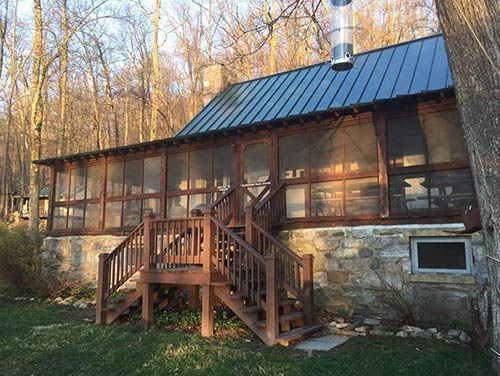 Troop 149 will be camping at the Blackburn Trail Center cabin on the Appalachian Trail just outside of Round Hill, VA. Located on a 150 acre wooded tract, the commercial style kitchen provides two propane gas stoves, refrigerator and freezer, double sinks and two dishwashers. The kitchen is also well stocked with pots, pans and dishes, etc. It has electricity, hot and cold water, and wood burning stoves.
The weekend is designed to be a merit badge and advancement weekend that will include:
Citizenship in Society (limited to the first 6-8, depending on age, rank, and need for Eagle rank)
First Aid (offered by Dr. Jacqueline Laurin)
Cooking (offered by ASM McLaughlin)
American Business or Weather (depending on demand)
Scout, Tenderfoot, Second Class and First Class requirements for those who are not yet First Class or higher.
Please list your first, second, and third badge choices in the link and we will accommodate if possible.
First Aid should be taken by anyone who does not have the merit badge, and who is First Class, or has the vast majority of their First Class requirements done.
IF YOU ARE NOT YET FIRST CLASS, you'll work on advancement. Older Scouts can have the option of helping with advancement if they don't need any of the offered merit badges.
Meet at church on Friday, December 09 at 4:30 pm, departing no later than 5 pm to beat traffic. Please plan to bring a bag dinner. Returning near 11 am on Sunday, December 11.
Parent Organizer: Jason Lyuke
Cost is $37 per attendee for the cabin rental and $20 grubmaster fee paid in cash. Adults pay their grubmaster $25 cash.
Occupancy in Blackburn Trail Center is limited to 22 people--20 Scouts and 2 adults. Overflow will have to tent outside. Older Scouts who don't mind tenting, or Scouts who need camping nights for advancement, can camp on the camping pads down from the cabin, or in the campground that's up the mountain.
Note that staying in the Trail Center does NOT count as "camping nights."
Sign-Up Instructions:
First Name and Last Initial only. No last names please.
All Scouts and Adults attending the campout:
(You are considered "attending" if you stay either night or if you are here for Saturday activities.)
Complete the sign-up form (adults and Scouts need to enter info separately)
Send campout payment of $37 via PayPal
NEW! Complete the fillable BSA waiver form (many thanks to Caroline Holt for the form): BSA Waiver Form
Email the waiver PDF to the Organizer - jason.lyuke@gmail.com
We will try to go paperless so please avoid bringing paper unless absolutely necessary